Welcome to a new series from Unicornbeauty: PSD Makeover. I will be taking a current website or blog and giving them a makeover with a Photoshop PSD. My very first volunteer was That's Too Cute.
THE PROS
A good wordpress template that has all the elements tied in and coordinated and the basic layout is good
Menu is easy to find and use
Great slider to really to show off the content
THE CONS
The site is too dark and too web 2.0, especially for the subject of fashion
No real logo or unique style
Too many posts on the front page – 22 older posts
Sidebar is too busy and social media links spread out and mismatched. Images in the sidebar were different sizes and styles creating a cluttered feel.
THE PLAN
Brighten up the colors: I was drawn to a color scheme from colour lovers but then modified it with some of the colors from Trilala's post about the Glee OPI nail polish.
Create a quick fun logo
Polish up the menu a touch and give it some style, break it away from the basic arial font and bring in a bold fun font.
Keep the basic structure of the layout since it is working well.
Touched up the slider to make it blend with the rest of the layout.
Keep the two current posts but make the post structures blend in with the new color scheme and minimize the meta data.
Instead of 22 older posts place 6 post thumbnails to hint at the older posts and draw in the curious visitor.
Create a section for social media icons (including creating one for Bloglovin'): This brought up the tabbed section to be more prominent on the sidebar.
Move the membership section to it's own page and add a link in the menu to eliminate clutter.
Create a footer for the site which pulls in some of the elements that were on the sidebar: Archives, Links, and Tags to help clean out the main sidebar.
THE REDESIGN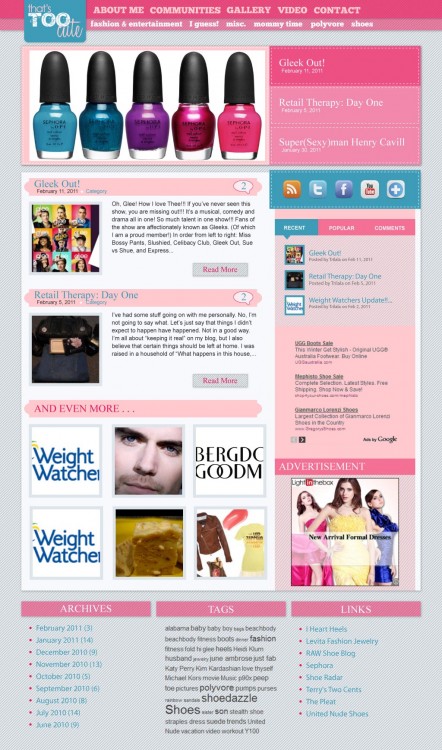 YOUR INVITED
I am looking for anyone who may be interested in participating in a PSD makeover by Uniquehorn Designs. If you are interested post in the comments with the link to the site you would like redone!
[box type="info" style="rounded" border="full"]Originally posted on my blog Unicornbeauty, but that blog will be closing and moving it to PepperScraps.[/box]