This post brought to you by P.F. Changs. All opinions are 100% mine.
With the holidays you always seem to find yourself eating out. This season is filled with holiday parties, family get togethers, and then there are just the nights you don't feel like cooking. I have always shared that you can still make good choices even eating out. One of the best ways to make good choices is to watch your calories.
One way I combated eating out was by creating Restaurant Rescue 3×5 cards. I chose my favorite restaurants, create a 3×5 card and write a few menu options that would keep me within my calorie budget for my meals. When someone suggestions eating out I grab a card and go.
P.F. Chang's
I really like P.F. Chang's because they have reasonable serving sizes and with family style dining it's easy to pick a plate and share it with a friend to cut down the calories. One of my favorite tricks eating out is to eat an appetizer instead of a full meal, so if you are eating with a friend with different tastes that you may not want to share a dish with you can still eat light.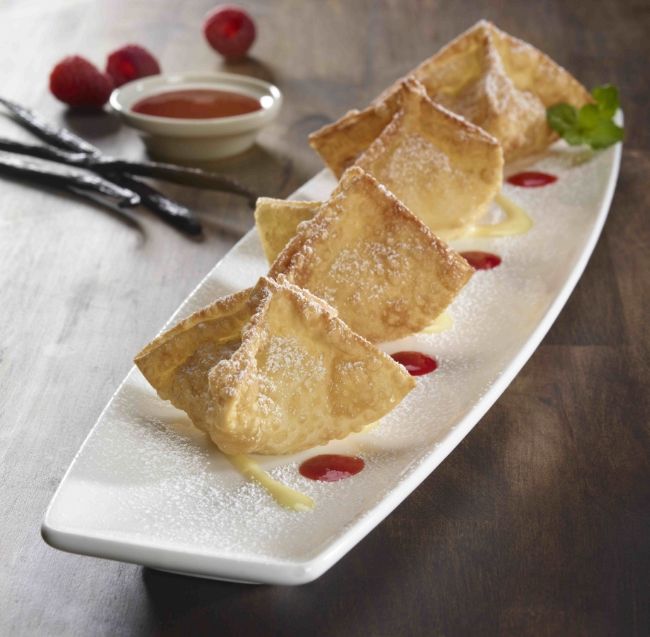 P.F. Chang's also just introduced two new desserts for the holiday season. Don't hesitate to go out to dessert with your friends, just remember to count your calories and be aware of what else you eat that day. Maybe instead of having a snack in the morning and the evening have a dessert to enjoy. If you deprive yourself of a food craving you will only crave it that much more and are more likely to binge.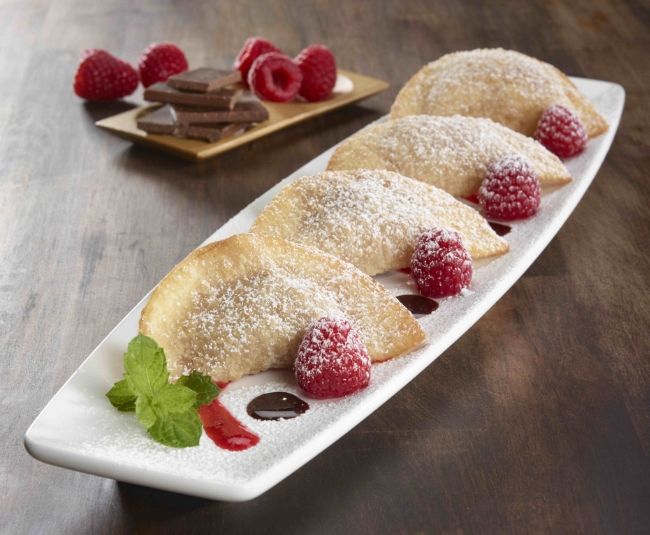 What is great about P.F. Chang's Chocolate Raspberry Wontons or Sweet Vanilla Cream Wontons is that they are individual packages. They will visually trick your mind that you are eating more because you ate 2 or 4. But also you really control your portion size perfectly.
You can find P.F. Chang's Nutrition Facts on their site or here are some meals I have created for your quick reference (you can download the cards below):
5 Appetizers for Small Meals 370 calories or less
Steamed Pork Dumplings (370 calories)
Pan-Fried Shrimp Dumplings (300 calories)
Ahi Crisp (300 calories)
4 Spring Rolls with sauce (290 calories)
Dynamite Shrimp (370 calories)
5 Entrees to Split* for 365 calories or less
*calories are for half of each plate included or sharing with 1 person
Mandarin Chicken & Large Spicy Green Beans Split (365 calories)
Ginger Chicken w/Broccoli with Asian Tomato Cucumber Salad (295 calories)
Beef w/Broccoli (335 calories)
Shanghai Shrimp with Garlic Sauce & Vegetable Lo Mein (365 calories)
Oolong Marinated Chilean Sea Bass & Shanghai Cucumbers (345 calories)
4 Desserts* for 285 calories or less
*With sweet treats you can pick three share your choices with a friend or if I remember right you can have them to go as well
2 Chocolate Raspberry Wontons (285 calories)
2 Sweet Vanilla Cream Wontons (265 calories)
Red Velvet Cake (210 calories)
Tiramisu (180 calories)
Download Your Restaurant Rescue Cards
Now you have some good options for when you are faced with eating out. Being prepared means that you will be less likely to overindulge and stay within your diet. Want to be more prepared? Print these 3×5 cards to have available when you have an eating out emergency:
Don't forget to follow P.F. Chang's:
Follow @pfchangs
Follow P.F. Chang's on Pinterest